Rhubarb syrup – how do I use it?
Summertime is here. The best time for a cold refreshing drink, preferably still low in sugar. I personally love the taste of rhubarb. With this recipe I have found the ultimate drink. Simply pour the rhubarb syrup into a glass and then fill it up with water. Alternatively, you can of course make a lemonade out of the syrup by adding some lime juice, lime pieces and some mint leaves.
The great thing is that if you boil down the rhubarb syrup, you can also make rhubarb sorbet in one go, without much effort. All you need from the boiled rhubarb for the syrup is the cooking water and for the sorbet is just the pomace and the coarse rhubarb scraps. You can find two different recipes for rhubarb sorbet here: Rhubarb sorbet with strawberries or with pineapple.
What do I have to watch out for with rhubarb?
What you have to watch out for with rhubarb, so that you don't get too much oxalic acid, you can find here: Gluten-free rhubarb cake
But in short, if you wash, peel and even heat the rhubarb well, you can't really go far wrong. Also, don't buy rhubarb after the end of June. It is probably more digestible with dairy products.
If you want a thicker rhubarb syrup, you need to use a lot more sugar. Personally, I don't like it so sweet and it's lower in calories if you don't use so much sugar. In addition, the times given are only lower limits. The longer you cook the rhubarb, the more intense the flavour will be.
Rhubarb – What goes well with it?
Rhubarb tastes good in many combinations. I think it tastes especially good with strawberries, but also with mint and lime. That's why you'll find two recipes below. One for the rhubarb syrup itself and then for two drinks that you can mix with it. I chose the non-alcoholic version. But you can also mix gin or white rum to it for a cocktail. In that case, I would add 2 cl of alcohol and then top up with soda or tonic.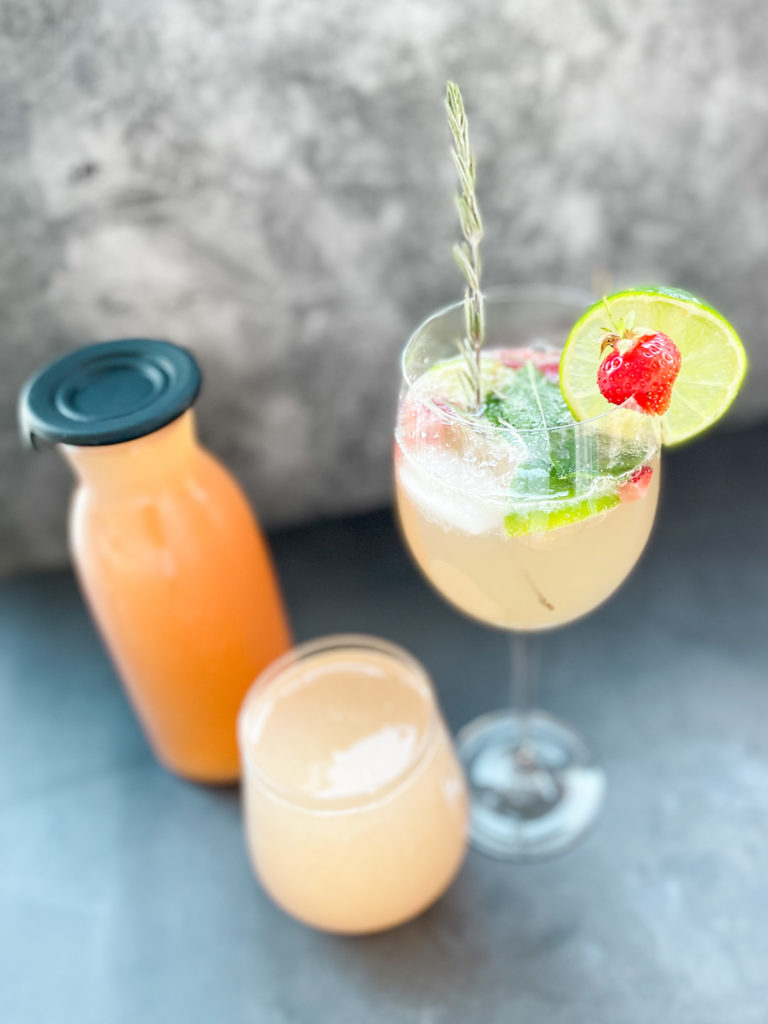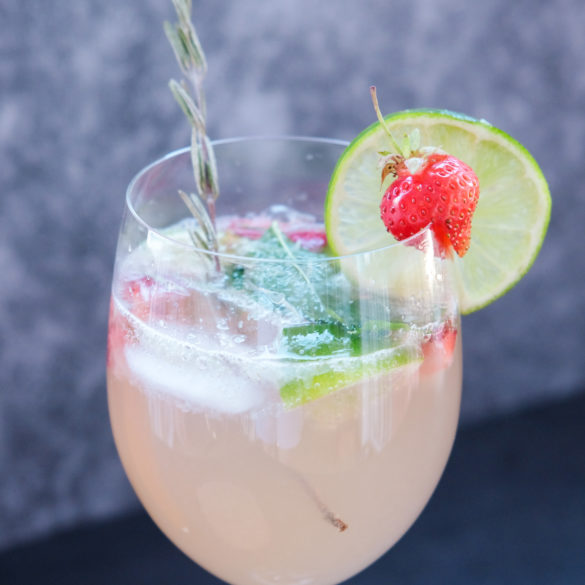 INGREDIENTS
Rhubarb Syrup
1500 g rhubarb
2 l water
80 g icing sugar
200 g cane sugar
Juice of 1 lemon
Rhubarb Drinks
1 organic lime
3 strawberries
Mint leaves
Rosemary
Rhubarb syrup
Ice cubes
Frozen berries or pomegranates to taste
Maple syrup to taste
INSTRUCTIONS
Rhubarb Syrup
Peel, wash and chop the rhubarb (approx. 1-2 cm wide pieces).
bring the rhubarb pieces to the boil with the water and simmer for about 30 minutes.
Take another large pot, hang a sieve in it and place a clean tea towel in the sieve. Now drain the rhubarb in it. Most of the liquid should go straight through the cloth and sieve into the pot. But since we want all the liquid, now take the tea towel and wring it out properly so that only the coarse rhubarb remains. If this is still too hot, simply take a wooden spoon and press on the twisted tea towel with the rhubarb inside.
You don't need the leftover rhubarb for this recipe. If you still want to make my rhubarb sorbet recipe, it's best to save it. Then you save one step. The liquid obtained will become your syrup.
Now add the sugar and the juice of the lemon to the pot of slightly reddish liquid and simmer for at least 30 minutes.
I am very happy with the consistency of the liquid. If you want it thicker, it helps if you use more sugar to thicken it.  
Rhubarb Drinks
For rhubarb-flavoured soda, simply pour as much syrup as you like into a glass and then fill the glass up with water. Personally, I only ever pour about a thumb's width of rhubarb syrup into the glass. Of course, the more syrup, the more intense the flavour. If you want to make the lemonade a little more beautiful, you could add frozen berries or pomegranates, for example.
For a rhubarb lemonade, halve the lime and cut off a slice that will later serve as a decoration. Now quarter one half, squeeze it into the glass and add the quarters too. Squeeze the juice from the other half and measure out 2 cl. Now add 4 cl of rhubarb syrup. Now you can add the mint leaves, fresh chopped strawberries and an ice cube. Fill the glass with soda and decorate it. Since I don't like plastic straws, I like to use a stalk of rosemary for stirring.
  I like it sour. If you don't like it that way, just add some maple syrup.
NOTES
Thanks for trying my recipe! Yours, Nele from travel + free ♥️