Gluten-free tray-cake
A baking sheet cake, often the ugly duckling among tarts and cakes. A gluten-free tray-cake is usually even less popular. That can't even taste good. But this fruit cake can definitely keep up in terms of taste. It's also super practical, because you have lots of small pieces for a children's birthday party or a party, for example, which are usually handy and you can eat with a napkin in your hand.
Of course there are differences here too. In the event of a German "Donauwelle" or a German "Bienenstich", a small accident could happen while standing with the cake as finger food at a party and maybe half of them fall down. On the other hand, a chocolate baking sheet cake, which in my eyes is the German brownie and is in no way inferior to the American brownies.
Today I want to share my favorite baking sheet cake dough with you. You can always top it differently depending on the season and the available fruits. With this recipe you can make a fruit cake, a crumble cake or a fanta cake with cream and thickened passion fruit juice. Today I decided to bake an apple crumble cake.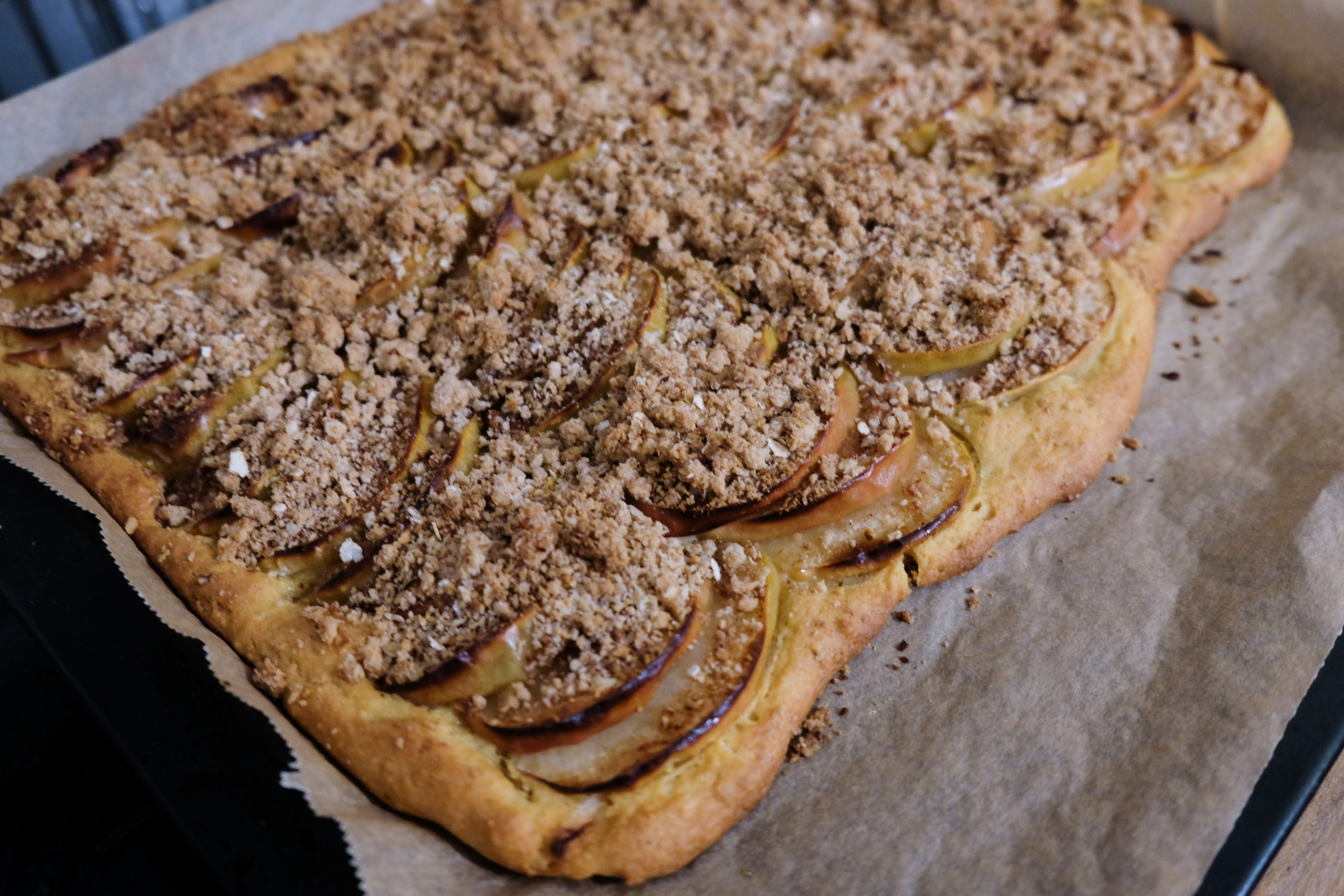 Gluten-free baking sheet cake can also be vegan
I used lactose-free butter for the crumbles. If I had used vegan margarine here, the recipe would be completely vegan. The recipe is completely gluten-free anyway.
The recipe is very quick and easy and does taste good even to people without celiac disease. I can tell you a little story about that. Because I play golf regularly with my friends and two of them are in the 1st team. Then the 1st team organized a tournament and also took care of the catering for the participants. A friend was supposed to bring a cake and then asked me for a recipe for a gluten-free cake – ideally, it would be reliable, simple and quick, juicy and delicious. Basically an "egg-laying, milk-bearing woolly sow". So I gave her this recipe. At the day of the tournament she had topped it with apricots, physalis and mixed berries and simply sprinkled ground almonds on top instead of crumbles. Someone else on the crew had brought another baking sheet cake (which even had cream and icing on top). But now guess which cake was gone faster. Exactly – the gluten-free one! All golfers said they found it much juicier.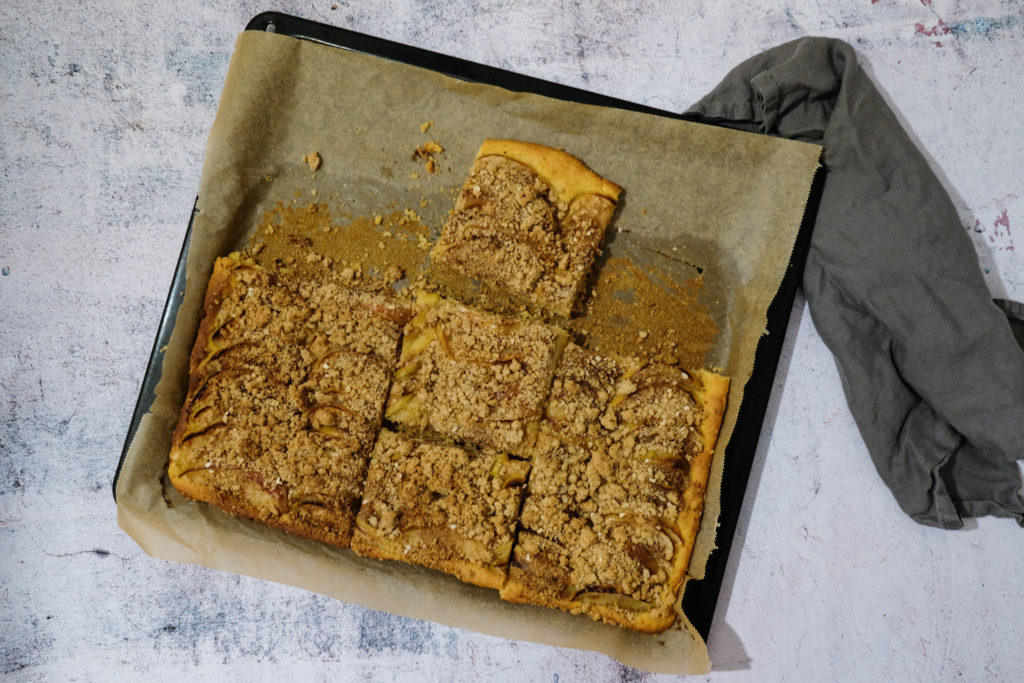 Tray cakes in different variants
This recipe was also my first glimmer of hope after my diagnosis. I always loved my grandma's plum cake. Grandma's cake was also a baking sheet cake. She always put plums on it and just before the cake came out of the oven, she spread "quark" (thicker yoghurt) all over the cake, which gave the whole thing a special kick! I loved the cake and thought I would never eat it again. With this basic recipe, it tastes almost the same as it used to!

And the coolest thing is, if you swap out the vanilla custard powder for starch and omit the topping, crumbles and ground almond mixture, you can even use the batter as a pizza. Top with tomato sauce, vegetables and cheese.
If you don't have ground almonds, you can also use ground flaxseed.

The recipe was created in a smaller oven with a smaller tray. For a normal-sized oven, it might make sense to double the amount.

But what am I talking about here, look at the recipe and start baking. Below you will find both variants, whether with crumbles for fruit cake or baking sheet cake with roasted almonds for a crunchy kick.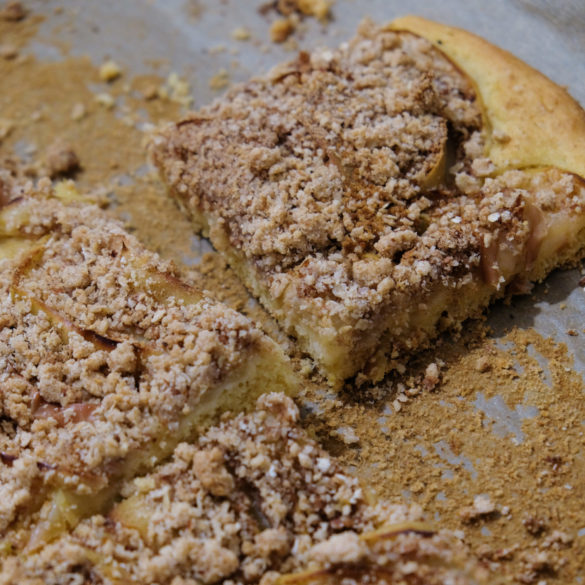 INGREDIENTS
Ingredients for one small baking tray
400 g apples
240 g flour mix
40 g cornstarch
20 g vanilla pudding powder or more starch
12 g baking powder
120 g powdered sugar
1 pinch of salt
100 ml rapeseed oil
130 ml soy milk
130 ml sparkling mineral water
50 g ground almonds or nuts
1 packet vanilla sugar
Some cinnamon
Crumble
50 g cane sugar / coconut blossom sugar
80g wholemeal rice flour
20g tender gluten-free rolled oats
50 g butter  
INSTRUCTIONS
Preheat the oven to 180°c top and bottom heat.
Remove the core of the apples and cut them into pieces.
Mix all dry ingredients except the ground almonds.
Add canola oil, soy milk and mineral water and mix.
Spread the dough on the baking tray lined with baking paper.
Spread the apples on it and sprinkle the vanilla sugar, ground almonds and cinnamon over it.
Mix all the ingredients for the crumble by hand and spread over the tray.
Bake for about 30-35 minutes until golden brown.
NOTES
Thanks for baking my recipe! Yours Nele of  travel + free ♥️
If you want a full baking sheet and it is a big tray, it's better if you double the dough ingredients.