The BBQ season has started again and who doesn't want a delicious gluten-free strawberry pie from the BBQ as a dessert? Especially as a celiac, we often cannot eat the dessert or side bread. Sometimes I wonder if I even like this season. We are also potentially exposed to cross-contamination when we have a barbecue. We have to use separate grill cutlery and grill trays unless the BBQ is 100% gluten-free.
At a small barbecue party with friends, we are probably met with understanding and therefore the autoimmune disease is less of an obstacle to have a barbecue in a relaxed manner and enjoying the food. But I have also experienced that I did not know some people at a barbecue party and they then thought that I was exaggerating. In this case, ready-marinated meat or fish or seafood can often contain wheat in the marinade. It is enough if the gluten-containing garlic bread is also warmed up on the grill or is just the first thing on the plate and then pushed aside with the grill cutlery to make room for the food from the grill.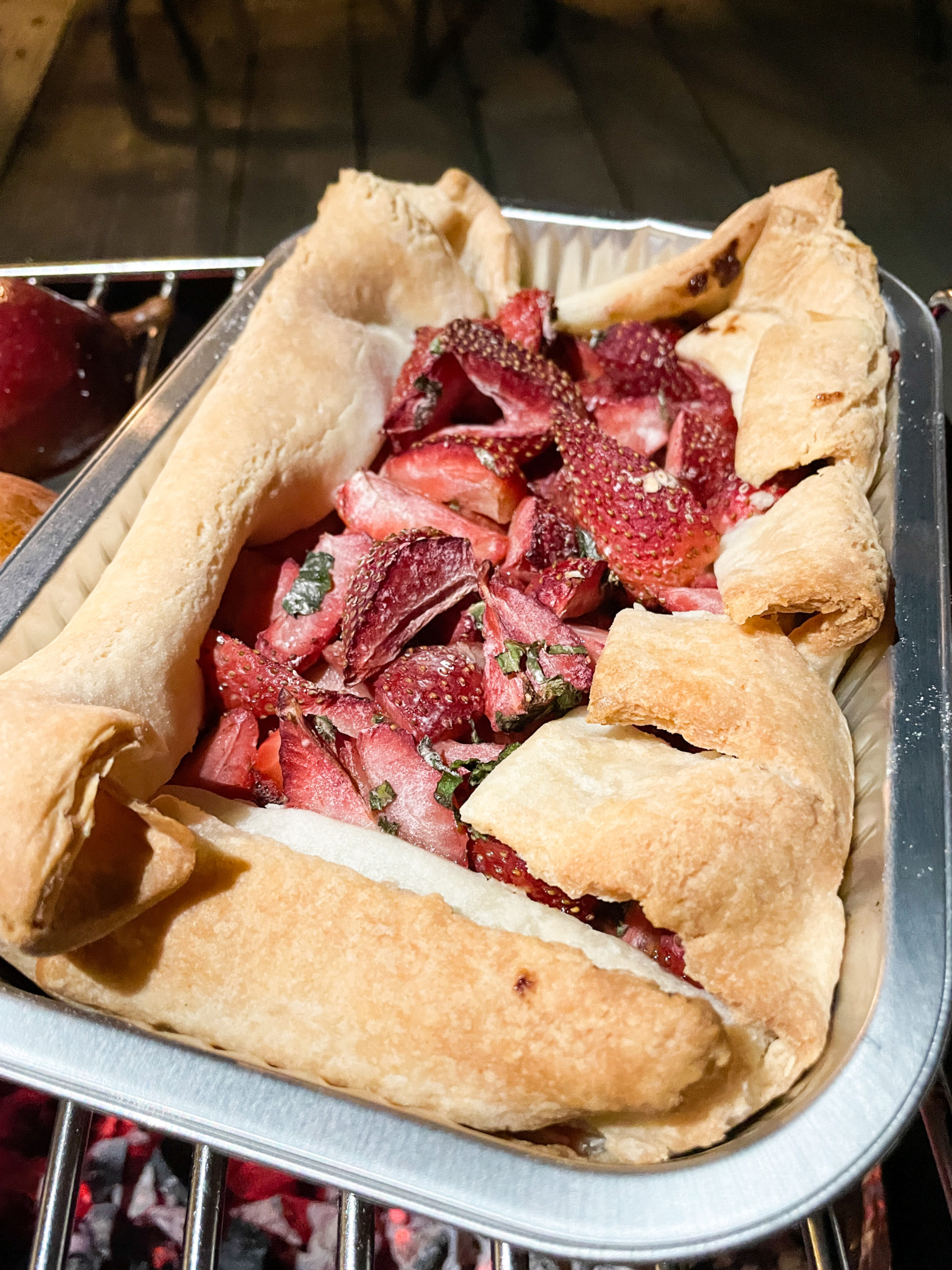 Of course, having a BBQ is more enjoyable when it's completely gluten-free. But if you're not lucky enough, you shouldn't be put off and just ignore one or two stupid comments. Maybe it makes sense to clarify with the host/hostess beforehand whether you have to bring your own barbecue cutlery or if a second one is available.
There are also aluminum grill trays available in every supermarket during the BBQ season. Of course, if you want to be sustainable you can reuse them over and over again or buy sturdy ones made of metal. A friend of mine has reusable grill mats that are like baking paper for the grill. Like that you can also minimize the traces very well.
A super-fast and mega delicious dessert for a barbecue party is the strawberry cake from the grill tray. You can prepare it very well already at home and then bring it in the grill tray. Then when everyone is ready you can put this wonderful dessert on the grill and get quite a few envious looks. It is not only an eye-catcher, but also super tasty (even for non-coeliacs).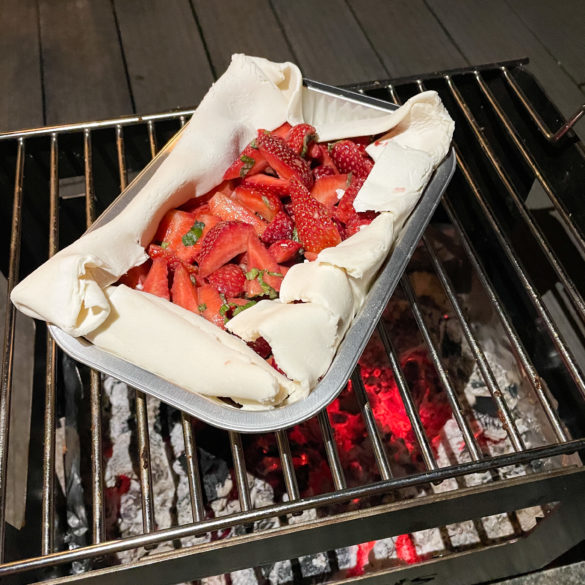 INGREDIENTS
1 gluten-free puff pastry from the frozen food section
300g strawberries
1 tbsp. coconut blossom sugar
1 tsp tapioca starch
2 stalks of mint
3 tbsp raspberry jam
squeeze of lemon juice
INSTRUCTIONS
defrost the puff pastry and line the grill pan with it. Then spread with jam.
Wash the mint, pluck the leaves and cut them into strips. Do not cut the tops of the stems, which look like small flowers, but save them for decoration.
Cut the strawberries into quarters, mix with sugar, starch and mint strips and place on the puff pastry.
Overlap the edge of the puff pastry so that nothing overlaps the edge of the grill tray. Use a second aluminum grill tray as a lid and grill for about 20 minutes, until the pastry is baked and the strawberries are soft.
Serve with the "mint heads" and drizzle with lemon.
NOTES
Tip: This also goes perfectly with the lime-coconut-mint sorbet.
Thanks for choosing my recipe! Your Nele from travel + free ♥️