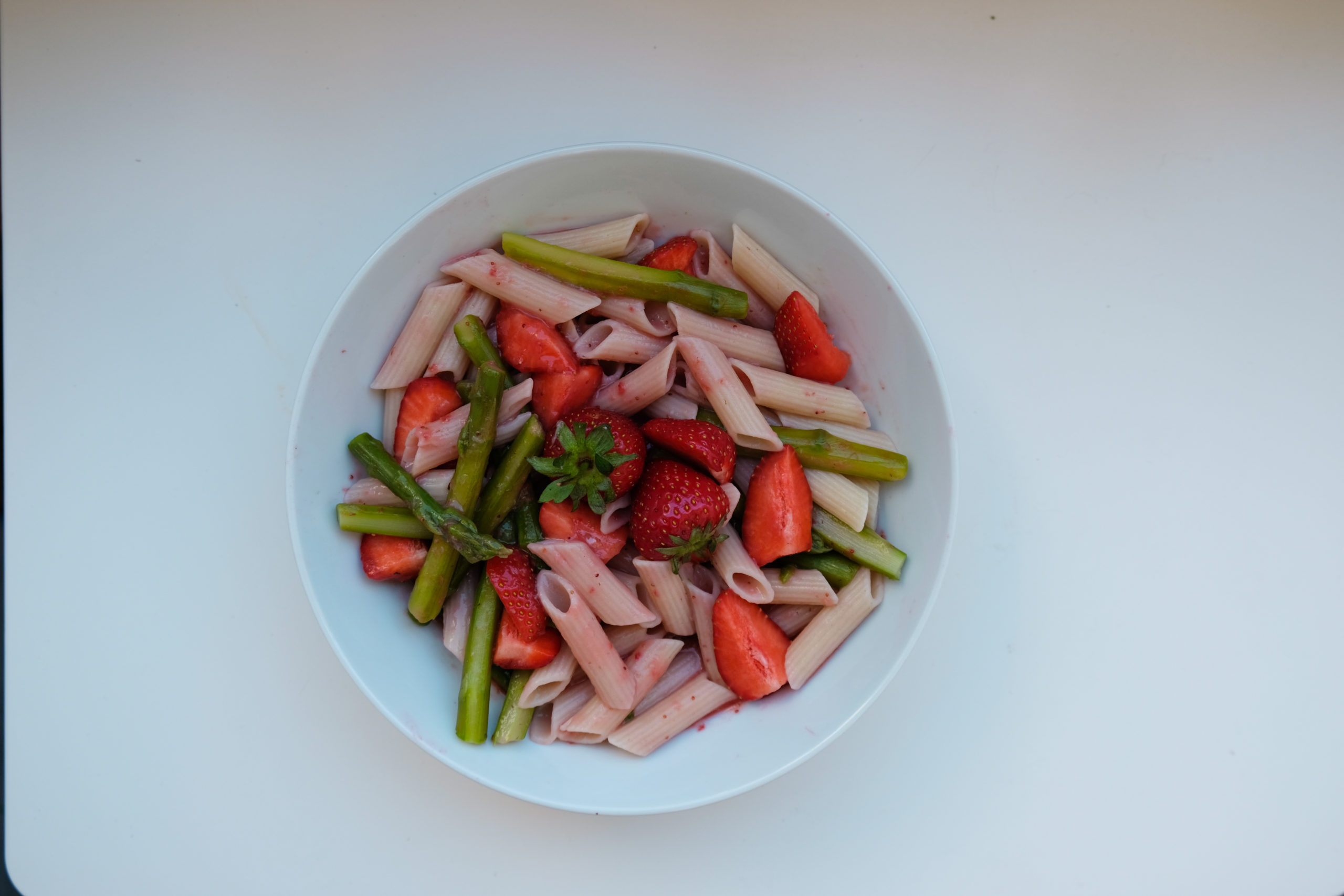 Penne with strawberry sauce – the recipe from my childhood
Everyone has that one recipe that takes you back to childhood. For me, it's pasta with strawberry sauce. When we were little, my brother and I have been often to Grandma's house and the highlight of every visit was the day we had the pasta with strawberry sauce. I don't know how our grandma came up with this recipe, but it's incredibly delicious. Maybe she just wanted to bribe us children with the sweet main course, because it was only served if we were very nice. But I can tell you, when the noodles with strawberries were announced, we were incredibly sweet.
In keeping with the asparagus season, I've expanded it a bit this time. Out of season, you can also leave out the asparagus and use frozen strawberries. In that case, however, the sauce should be warmed up. Of course, the pasta sauce tastes much better with fresh strawberries.
I always make sure that I buy only organic strawberries and, if possible, regional strawberries. Strawberries in particular are sprayed a lot and non-organic strawberries probably contain more pesticides and other chemicals than healthy nutrients. For this reason, I only ever eat strawberry ice cream if it is made from organic ingredients.
Strawberry- and Asparagus Season
The asparagus season in Germany is always from April to June, the strawberry season in Germany is roughly from May to June. But with climate change and thus changing weather and higher temperatures, the months can also vary a bit. I have never grown asparagus myself, and as far as I know you can only harvest it in the second year. But the first strawberries I can harvest from the balcony garden are a highlight and the start of the warm time of the year.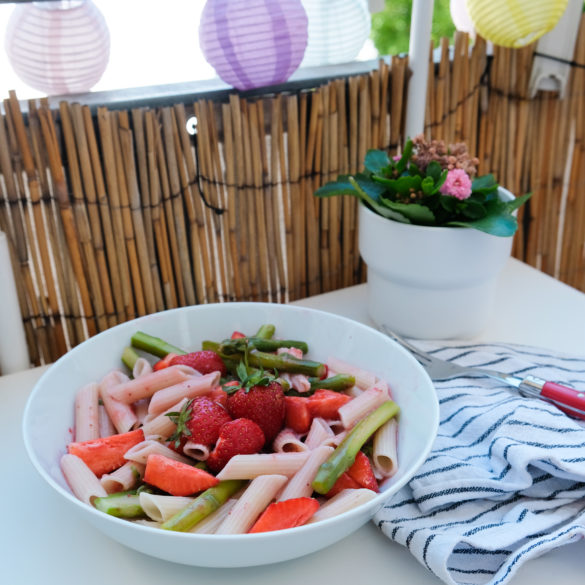 INGREDIENTS
75 g pasta
250 g strawberries
6 spears green asparagus
2 tbsp icing sugar
1 pinch of salt
INSTRUCTIONS
Cook the pasta according to the instructions on the packet.
Peel and wash the asparagus and remove the woody part. Cut into small pieces and add to the pasta in the cooking water.
Wash and chop the strawberries. Add the sugar and a pinch of salt. Leave to stand for a short time and then puree with a hand blender. If you want to have bite-sized pieces, keep a few strawberries for later.
When the pasta with the asparagus is ready to drain, mix with the strawberry sauce and stir in the reserved strawberry pieces.
NOTES
Thanks for choosing my recipe! Your Nele from travel + free ♥️