I have to admit, I'm pretty crazy about pizza. It used to be not like that, but since the diagnosis of celiac disease it has become something special.
I especially love the pizza bases with thick batter and extra fluffy. It is nice if the bottom base is also a bit crispy. But I don't like it when it's just crispy that it cracks when you bite into it. My grandma liked these crispy bases and when they were fluffy she cut the really tasty airy edge in a circle and only ate the topped portion. She always said she can save the calories and it doesn't even taste good. That's not how I see it. At that time I was also able to steal one or two parts of the crust that she left on her plate.
Immediately after the diagnosis I was a bit disappointed because the gluten-free pizzas were rather thin instead of thick and fluffy. Restaurants often take ready-made dough pieces that have been frozen beforehand. This is then easier with cross-contamination, but unfortunately this is also noticeable in the taste. I was really happy when I was still living in Vienna and discovered a pizzeria behind the town hall. There in the pizzeria Scarabocchio and they have a family member who has celiac disease, so they watch out for cross-contamination, AND make their own dough. There I got the dough I wanted and was able to fully enjoy the pizza again. I had a great experience there when I was eating with my family and my aunt suggested that everyone should order a gluten-free pizza (even though I'm the only one in the family with celiac disease) and then we kept passing the plate clockwise. If the pizza variant tasted good, you had to eat faster. When everyone had tried each pizza once, you could choose the favorite and if you were lucky you would get the rest of that variant. This is a banal game in itself, but for me it was the greatest thing back then: share food and try everything!
Then I had the chance to fly to New York City for two weeks for work and had to prepare everything by myself for a week. I had read beforehand that real New Yorkers eat a lot of pizza and, according to TimeOut New York even offers a large selection of gluten-free pizza! Since I was traveling alone in the first week and on the weekend, I wanted to explore as much of New York as possible (after work, of course 😉) and try gluten-free food. Actually, I didn't just want to eat pizza, but since one was better than the other, I ate a pizza almost every day. I was at Kesté, Shelter Pizza and Senza Gluten, among others.
Up until now, I had only made pizza at home when I wanted it to be a little healthier. As a tray and with thick, but less airy batter. More in the style and taste of a pizza slice from the organic food store. After the diagnosis, I wanted to try again and improve it. Which has only really worked since the corona pandemic. For my birthday I got a pizza stone for the oven, and I also extended the waiting time for the yeast dough, so that I would almost say that my pizza tastes better than gluten-containing pizza. But try it yourself, here is the recipe.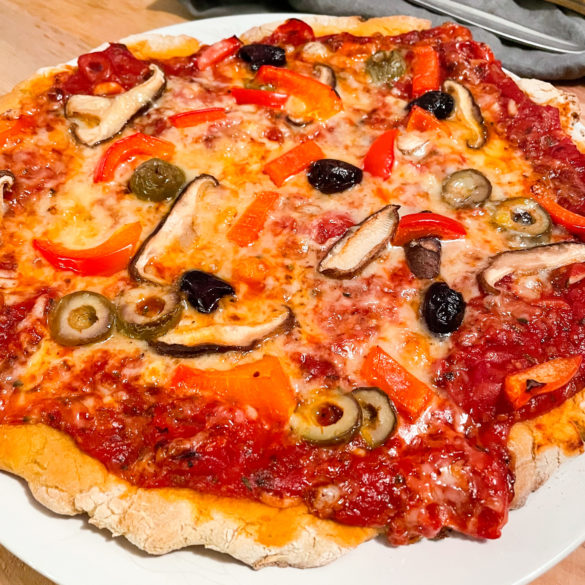 INGREDIENTS
For the yeast preparation
100ml warm water
2 teaspoons of sugar
1 package of dry yeast (7g)
For the pizza dough
100g rice flour
50g corn starch
30g teff flour
1 tbsp psyllium husks
1/2 tbsp guar gum
1/2 tbsp powdered sugar
1/2 tbsp salt
1 tbsp rapeseed oil
60 ml of water
For the tomato sauce
olive oil
1/2 onion, finely diced
1 clove of garlic, finely chopped
2 teaspoons of tomato paste
200ml cocktail tomatoes from the can (alternatively strained tomatoes)
Pizza herbs
For the topping
2 handfuls of grated cheese or 1 buffalo mozzarella
further toppings at your own choice, but not too thick, otherwise the base will not hold.
INSTRUCTIONS
Mix all the ingredients of the yeast mixture and let it stand for about 10 minutes.
Mix all the dry ingredients for the pizza dough and then add the yeast mixture, the rapeseed oil and the remaining water.
Mix it with the hand mixer with dough hook for 2 minutes on slow to medium speed and then again for 2 minutes at the fastest speed.
Then knead it again briefly with floured hands to form a nice ball and cover it with a tea towel in a warm place. Let it work and grow there for about 30 minutes. I always place my bowl of dough directly on the warm heater.

Now, at the latest, set your oven to the hottest setting with top and bottom heat or in pizza mode (for me that's about 260 ° c). Put your pizza stone in now. If you don't have one, slide in a baking sheet.
Now start with the pizza sauce by heating the onion and garlic in a pan with a little olive oil. When both are translucent add all of the remaining ingredients.
Now prepare all the ingredients for the topping.
After the 30 minutes, take the dough and flour the area where you will knead the dough (I'll use a large wooden board so I can carry it around). Put the ball of dough on it and slowly and carefully press the ball flat and bigger and bigger (if you like it fluffy, otherwise take a rolling pin and just roll it flat). Then put the dough and wooden board back on the heater or your warm place. Cover it again with a tea towel and wait another 15-20 minutes. The longer you wait, the fluffier it will be in the end.

Now cover the pizza dough with the tomato sauce and cheese and with any other ingredient of your choice.

Now, when you put the pizza in the oven, try to open the oven as briefly as possible so that the heat does not leave. I slide my pizza onto the pizza stone with a wooden pizza peel.
I get the pizza out after about 10 minutes, when the cheese is completely melted.
Bon Appetit! 🙂
NOTES
Thank you for trying my recipe! Your "Nellie" from travel + free ♥ ️