Spaghetti with avocado might sound a little weird at first, but I can promise you it's really good. Avocados are a tricky ingredient these days, though. In principle, I already make sure that I support local farmers. I go to the farmer's market every Saturday and only buy organic fruits and vegetables. And then I love avocados, but they are notorious for requiring too much water, leaving the avocado farmers themselves with no water to live on, and growing a surplus that ends up in the trash. In the past when the avocado was only considered a superfood and very healthy because of its fats, I ate a lot of avocados. It also happened that I forgot a purchased avocado, which then also ended up on the garbage. Since the avocado has been in the headlines as part of sustainability, I make sure that I no longer forget an avocado. For me, the avocado has now become something special that is no longer an every-day-ingredient.
So, when I do have a very soft avocado, this pasta recipe is perfect. Because one thing I can tell you, with a hard or not very soft avocado this recipe is a bit difficult. So, already when you buy it, make sure that it is really soft or expected to be soft on the day you want to make this recipe.
Per person, you need half an avocado. If I eat alone, I usually have avocado toast for breakfast the next day. I always like my avocado bread best with some (vegan) feta crumbled over it as well as some chili flakes.
You can of course use any type of pasta, but I find that spaghetti fits best. Alternatively, you could use tagliatelle or fusilli. On the varieties, the avocado sauce sticks best and the spaghetti or tagliatelle you can roll up with your fork (which I really like).
But now I wish you a lot of fun while cooking!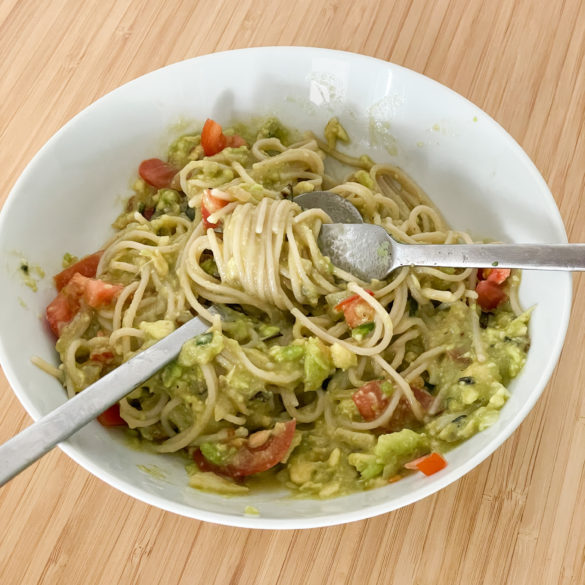 INGREDIENTS
75 g spaghetti
½ soft avocado
juice of 1-2 lemons
pepper + salt
2 cloves of garlic
1 spring onion
1 small white onion
A little oil
Cooking water
Possibly pine nuts
1 diced tomato
INSTRUCTIONS
Cook the pasta according to the instructions on the package.
Mash the avocado with a fork in a bowl. Add the freshly squeezed lemon juice and add some salt and pepper.
Finely dice the garlic cloves and the onion. Fry them in a little oil until translucent.
When the pasta is "al dente", drain it, but keep some of the cooking water (about 1-2 tablespoons). Add the sautéed onions and garlic with the cooking water to the avocado. Add the cooking water carefully, so that it doesn't become too runny and bland.
Now stir the spaghetti into the sauce. When the sauce sticks to the pasta, mix in the diced tomato. Roasted pine nuts would also go great with this. You can simply toast them briefly in a pan without oil and then sprinkle them over the pasta.
Tip: I often cook my gluten-free pasta 1-2 minutes shorter, then they are al dente and break less often than usually.
NOTES
Thanks for choosing my recipe! Your Nele from travel + free ♥️