I love green asparagus and I am happy every year when the asparagus season starts again. The peak of the season is from late April to mid-June in Germany. I also used green asparagus in this recipe. If you can't find fresh green asparagus now, you can simply replace it with broccoli. In general, it is of course possible to swap vegetables as you wish.
It's a great recipe for warm spring or summer evenings, without heavy sauce, very light and refreshing.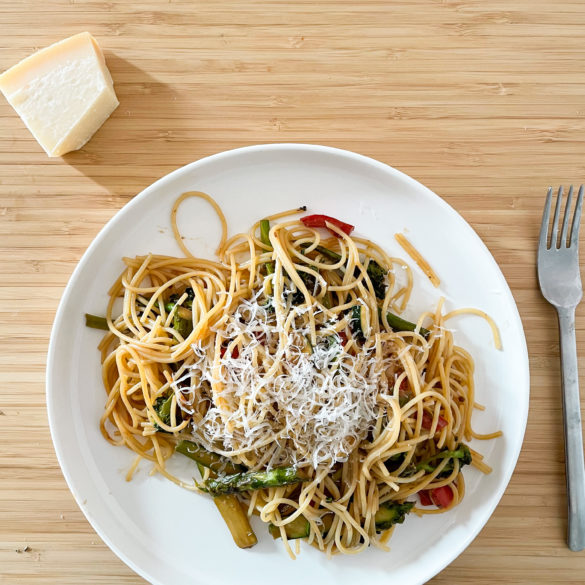 INGREDIENTS
60g spaghetti
olive oil
garlic
spring onion
4 green asparagus
1 handful of broccoli
1/4 paprika
1/2 zucchini
For the sauce
1 teaspoon almond butter
1 tbsp soy sauce
Juice of one lemon
pepper and salt
INSTRUCTIONS
Cook the spaghetti according to the instructions on the packet.
When the water for the spaghetti is on, heat some oil in the pan and cut the vegetables. I always cut the asparagus in half lengthways and then in two or three pieces crossways.
First toss the spring onions and garlic into the warm oil and let them fry for about a minute until the onion is soft and the white part is translucent.
Then add the vegetables, wait a moment with the zucchini. It doesn't take that long to soften.
While everything is searing, you can add the almond butter and soy sauce directly to the pan. Keep stirring until the almond butter has spread. Then add the lemon juice and stir again. Now you can taste it and serve it.
NOTES
Thank you for trying my recipe! Your Nele from travel + free  ♥️